Bachelor of Arts- Geography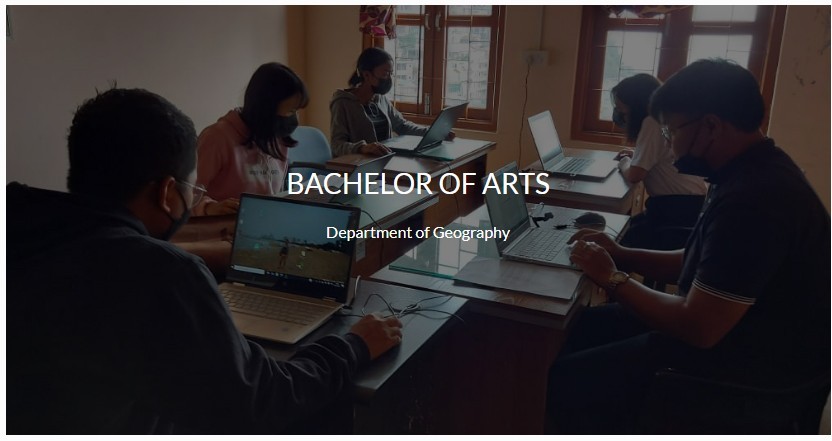 A three year degree program spread over six semesters affiliated to Mizoram University.
a) Geomorphology with focus on Regional and Applied geomorphology.
b) Environmental studies with focus on Climatology and Climate change, Water Resources and Hydrology, Biogeography and Biodiversity and Watershed Management Studies.
c) Regional Development and Regional planning.
d) Researches on Social and Cultural Diversity of the North-Eastern Region
e) GIS and Remote Sensing applications in Environment and Land Use Planning.
BA Geography Course:
BA Geography course is a three year under-graduate program which is spread across six semesters. BA Geography
course has 12(twelve) Papers; Physical geography, Human Geography, Geography of India, Geographical Thought, Economic Geography, Population Geography, Agriculture Geography, Geomorphology, Urban Geography, Cartographic Techniques, Map Projection, Surveying & Statistical Techniques, Remote Sensing & GIS.

The subjects that are taught as part of BA Geography course contain important topics that are concerned
with the understanding of earth and its phenomena. Geography is a multi-displinary subject that can relate to today's inter-displinary world. Students passing out from the college can opt for different jobs both in private and government sectors such as Surveyors, Academicians, Forester, GIS experts, Teachers, Business, Cartographers, Statistician, City Planners,etc
Vision : BA Geography is an interesting course to get in-depth knowledge and understanding of our Earth. Providing knowledge of population dynamics and migration pattern.
Mission: To provide students with knowledge about the earth's natural environment and its relationship to society. To provide students with knowledge about the world's peoples, nations, cultural environments and spatial organization.
Goals: Students will learn how human, physical and environmental components of the world interact. Objectives: a. Students will be familiarized with economic processes such as globalization, trade and transportation and their impacts on economic, cultural and social activities
Achievements:
From its establishment the department has prove to be one of the most pretigious colleges in the state by maintaining good result in Under Graduate Examination, training students to become good academicians, active social workers, productive personnel in government and non-governmental sector. Students personality are enhance by teaching them time management, hard work, independent, communication, leadership. attention, interpersonal skills, etc.
Core Area of Learning:
~Physical Geography
~Human Geography
~Cartographic Techniques
~Courses related to Geographical Information System(GIS), thematic mapping, etc
~Population Geography
~Geography of India
Syllabus : As per MZU click to download
Department Activities click to access
Department Profile:
| | |
| --- | --- |
| Head | Lalmalsawma Ralte |
| Address | Department of Geography, Govt Hrangbana College,Aizawl. |
| Phone | +91 94361 98639 |
| Email | |
| Website | ghbc.edu.in/page/department-of-geography |
List of Faculties (as of 01.02.2023)



1

Lalmalsawma Ralte (HOD)
Assistant Professor,
Master of Arts
Click to view profile




B. Lalrawngbawla
Associate Professor
Master of Arts
Click to view profile


C. Lalhumbika
Associate Professor
Master of Arts
Click to view profile


F. Vanlalhmangaihsangi
Associate Professor
Master of Arts
Click to view profile



CASUAL TEACHERS


PC Laltlanliani
Assistant Professor (Casual Teacher)

Master of Arts


Ramengmawii
Assistant Professor (Casual Teacher)
Master of Arts,(Ph.D on going)