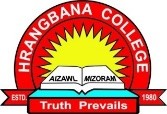 Psychology is the scientific study of human and animal behaviour. The department is organized in almost all fields of psychology, and it consists of faculty members whose combined interests spanned a coherent program of advanced study and research in some sub field of psychology.
Our goal is to broaden and deepen the knowledge base on which the science of psychology rests so that our students develops better understanding and which will eventually lead to become better human being in the future. Moreover, many members of the faculty are committed to exploring the impact of their work on societal, community, and individual problems.
Consequently, diverse interests of faculty and students regarding our subject often leads to bridge basic science to issues of public policy, providing opportunities for students to develop broad areas of expertise. Our department is a thriving and diverse intellectual community that is committed to a culture of inclusiveness.
Currently the Department is running with One Professor, two Associate Professors and three Assistant Professors. The Department was set up to develop an awareness of the importance of studying human behaviour and the societal relevance of psychology.
The Department offers B.A. Psychology which is of six semesters and the curriculum is so designed as to provide strong theoretical, methodological and contemporary knowledge of various areas of Psychology. The purpose is to equip the students with knowledge, skills and values to become effective and competent professional psychologist. During the course, the students are taken for field visit at mental health centres and counselling cells besides interactive classroom teaching and laboratory training.
Time to time extended lectures from experts in relevant field is also conducted. This academic training enables the students to work in a broad range of settings such as, medical, organization, counselling centres, NGOs, researchers and academicians.
Department Profile
| | |
| --- | --- |
| Head | Prof Zothanzami |
| Address | Department of Psychology, Govt Hrangbana College,Aizawl. |
| Phone | 0389 – 2347302 |
| Email | |
| Website | ghbc.edu.in/page/faculty-department-of-psychology |
Faculties
REGULAR FACULTIES

Prof Zothanzami
Head of Department,

Master of Arts, Ph.D

Dr. Juliet Lalremmawii Ralte

Associate Professor

Master of Arts, Ph.D

Saihlupuii

Associate Professor

Master of Arts

Dr.Melody Laltanpuii

Assistant Professor

Master of Arts ,Ph.D

CONTRACT FACULTY

RUSA FACULTY

Lalparmawii Khiangte

Assistant Professor

Master of Arts

(Ph.D On-going)

Dr. P.C Lalhmingsangi

Assistant Professor

Master of Arts ,Ph.D